#30020 - Purge Tank Fitting Kit
Parts
Male fitting with stepped adapter
&nbsp
Female fitting with 3/8" hose
&nbsp
Female fitting with 1/2" hose
&nbsp
Female fitting with 1" hose
Please note: This is for use with vehicles that do not have a cap on the radiator as pictured below.
Fitting instructions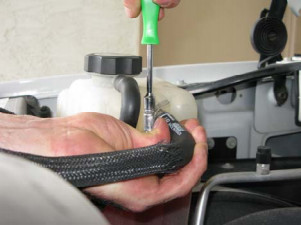 #1 Remove the hose from the purge tank (not uppermost overflow hose)
&nbsp
#2 Attach either the 3/8",1/2" or 1" hose with female connector and clamp.
&nbsp
#3 Install stepped adapter into vehicle open hose and clamp.
&nbsp
#4 You are now ready to connect your Cooling Flusher (it'll only connect one way) and start your flush.
When the service is complete, turn the "Flush" switch off and allow pressure to purge before disconnecting the hoses.